Don't Forget Our Esports Dream [Press Kit]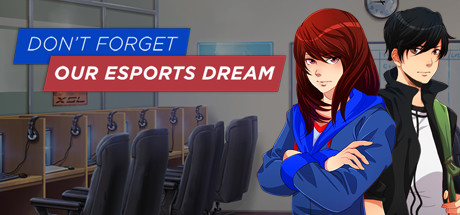 FACT SHEET
TRAILER
DESCRIPTION
Don't Forget Our Esports Dream is a narrative game set in the South Korean esports scene during the prominence of StarCraft: Brood War (200X - 2009). You play as Bolt, a professional StarCraft player at a flashpoint in his career. The game explores both the struggles and triumphs of esports competitors in the context of young players learning what it means to chase their dreams at all cost.
FEATURES
Simulated StarCraft sequences that allow the player to mimic actual StarCraft gameplay.
Achievements on Steam for achieving high APM and accuracy during StarCraft gameplay.
Codex of terms to help familiarize players with the esports industry, characters, and cultural aspects of South Korea.
Star Sense dialog system - present terms about esports, strategy, and other characters through the codex to learn more about the world of esports.
No previous knowledge of esports or StarCraft required.
ABOUT THE GAME

Following the success of SC2VN, a free visual novel about StarCraft 2 esports, Team Eleven set to make a followup taking place in the Brood War era. The game focuses on the career and relationship between Jett and Bolt, two professional players struggling to find their place among their fellow competitors.
The game's narrative highlights the uncertainty most professional players face against the backdrop of a rapidly changing esports scene. Players face the reality of running a team house, hustling to attend the next tournament, and catching the attention of successful teams and players, all while trying to compete at a top level. Despite the struggles along the way, it makes achieving the dream all the more rewarding.
Team Eleven worked with Blizzard to use assets from the StarCraft franchise in the game. Player can expect to see familiar gameplay, unit voices, and strategies from StarCraft. No previous knowledge of the game or esports is required.
ABOUT THE TEAM
Team Eleven launched SC2VN at the end of 2015 which has been downloaded 170,000+ times across Steam and Itch.io. The team has specialized in telling stories about esports players that depict both the dive of competitors to reach the top, alongside the realities it takes for few to get there. The goal of showing all aspects of the player experience is not just for authenticity, but to acknowledge competitors who make esports what it is for so many to enjoy.
Contact: team eleven eleven at gmail dot com

CREDITS
TJ Huckabee - Writer and Designer - @voguekun | Website
Tim Young - Developer and Producer - @shindags
Glynnis Koike - Lead Artist (Character / CG) - @inkydandy | Website | Art Instagram
Stephanie Yang - Character Artist - @hikariix
Collin "Mondonator" - Music - @mondonator
StarCraft®, StarCraft®: Brood War®, StarCraft® II: Wings of Liberty®, StarCraft® II: Heart of the Swarm® images and audio provided by Blizzard Entertainment, Inc.

Don't Forget Our Esports Dream is an independent project not affiliated with Blizzard Entertainment or its partners.

Download
Download
Esports Dream - Press Kit.zip
76 MB